I'm new to Rping so take it easy on me ok?
First Name: Keiji
Surname: Inoue
Age: 16
Guild: Fairy Tail
Location of the guild mark: Right Shin
Pet:
Likes: Learning from his numerous failures, His rare successes, and being praised.
Dislikes: Being reminded of his inadequacies, Losing to the same opponent twice, and Realizing just how low his limits are.
Siblings: Keeps a pet Turtle in his Dorm Room (Yes he considers it a sibling, don't judge!)
Type of Power (ex: Transformation Magic, Celestial mage, dragon slayer, Armor etc): Bone Magic (Though he doesn't know it.) Keiji believes that he has no magic, and as such fights only with his fists and feet. Master Makarov spotted the young man fighting in an underground organization for the entertainment of rich nobles. The Master saw that before each punch or kick the bones on Keiji's limbs would suddenly grow thicker making the blows land significantly harder. Makarov purchased Keiji's services from his previous manager and asked him to join Fairy Tail on a probationary status. He would only become a full member when he realised what his magic was and could demonstrate mastery over it in a stressful situation. The problem being that in said stressful situations Keiji is prone to excessive fits of rage that distract him from his powers and draw his attention instead to keeping him from killing someone.
Special Features: Keiji has an ability called Tremorsense. He can feel the vibrations of motion in the air and through the ground, which allows him to fight blind-folded (A favorite training method of his).
Psychological description: Keiji is essentially an emotional leech, he clings to the smallest victory because quote "I may never see one again". Deep down Keiji could be likened to a pitbull; determined and ferocious. That doesn't necessarily mean he isn't a nice person but he does not take an insult to his honor very well, generally tossing out challenges to far superior opponents knowing full-well that he has a 0% chance of victory. When it comes to someone he feels he has a close connection with Keiji seems to gravitate to a Loser Big Brother role, trying to be protective and make them happy but in the end being a burden.
Physical description :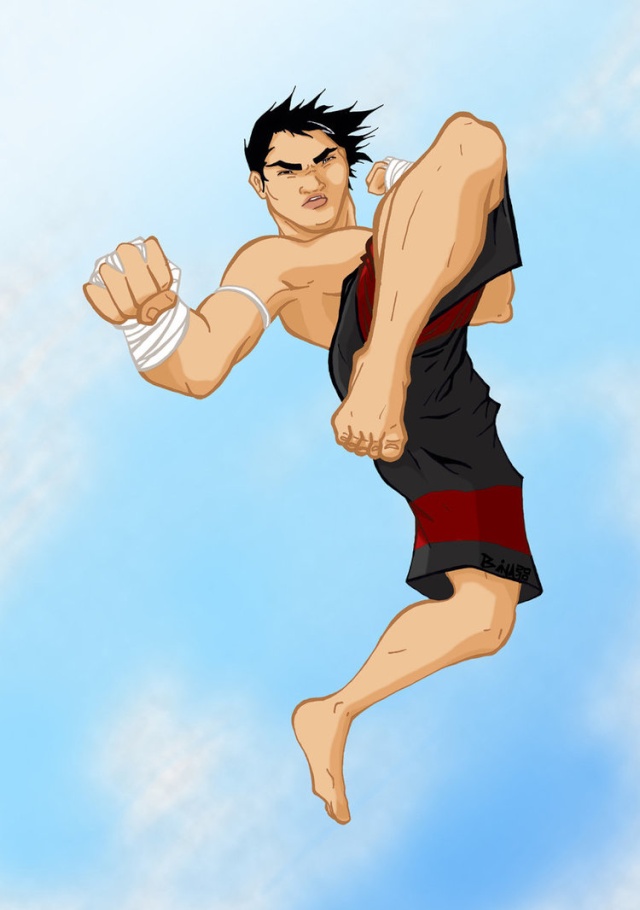 Describe your past (your background): Keiji was born to a poor family. His mother died during childbirth and his father was trapped in an industrial fire at the factory he worked for. He carries around a small silver cross that hangs from his neck, no one touches the cross NO ONE! The cross is the only remaining heirloom from his deceased parents and as such is protected as though it were their very souls. Because he was an orphan in a dangerous world Keiji learned quickly that someone who can't protect themself is going to die, to this end he studied barroom brawls through tavern windows and doted on books of martial technique at public libraries. By the age of 10 Keiji was a force to be reckoned with, a veritable master of several striking arts. When a thug attempted to rob Keiji his talents were observed by a mysterious "benefactor". His skills earned him a place in an illegal fighting ring, a place where he would earn countless victories and very few defeats (3, he'll never let them go). In the cage he was a terror, a near unbeatable demon of fists and feet. When he was taken in by Makarov he challenged several local mages to duels. In a single day he racked up a staggering 31 losses in a row with 0 victories. After all the injuries he had suffered in his life, he was dealt the most debilitating of them all a broken spirit. After being so thoroughly thrashed and broken Keiji realised that to a normal human he was nigh untouchable, but to a mage he was barely different than a normal human. During a mission to recover a set of scrolls from a hidden ruin Keiji had the first of the rage blackouts that would come to conceal his powers, while battling an unknown mage from a bandit guild. The foolish mage attempted to steal Keiji's cross. This ended very poorly for him, Keiji's bones began to jut out of his hands, feet, elbows, and knees. Essentially what was once a negligable threat was now a whirling tempest of blades and spears, mangling the bandit and leaving little trace of the man he once was. It is an inside joke for the members of Fairy Tail to bring up the fact that everyone BUT Keiji knows what his power is. They do this with no ill will but Keiji secretly harbors feelings of resentment and lonelyness that add to his gloomy mood.
Other information: Keiji has an intimate knowledge of the human Muscular system that generally manifests itself in the useful talent of nursing battle wounds and is used in his non-wizarding job (A physical therapist/Masseuse)